59 DWELLINGS + 1 SHOP AGENCE PARTENORD HABITAT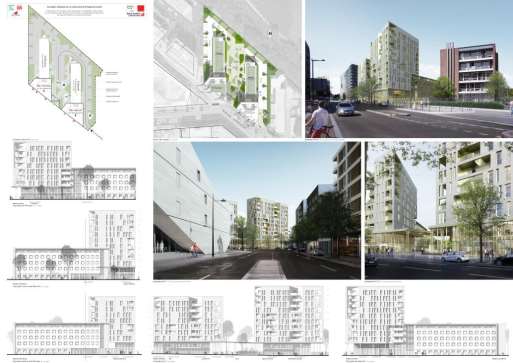 Firm: RABOT DUTILLEUL CONSTRUCTION
Architect: CONCEPT ARCHI
December 2016 (Winner competition)
€11,150,000 duty free (firm & conditional slices)
€8,660,000 € duty free (Firm slice)
Residency St Benoit: 1,860 m²
Residency St Nicolas: 2,340 m²
Construction of 59 collective rental units including a shop on the ground floor of the Résidence St Nicolas.
Renovation on the facades of the St Nicolas and St Benoit residences.
The redevelopment of the premises of the Partenord Habitat Immobilier Spécifique agency into housing located in Lille, avenue Denis Cordonnier.
Vegetation of roof terraces and development of the forecourt.
Shops on the ground floor: 450 m2 (spread over the 2 residences)
MISSION(S) COMPLETE WORK MASTERY + OPC
High/ low voltage electricity
HVAC
Various roads & networks
BIM